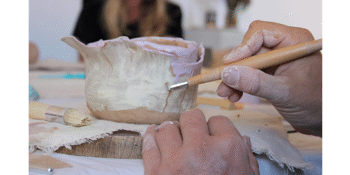 THE OLD BAR GALLERY PRESENTS:
POTTERY AND A POT AT THE OLD BAR GALLERY
The Old Bar (Fitzroy, VIC)
Saturday, 12 February 2022 3:00 pm
After a such a successful turnout for our "Pottery and a Pot" workshop we have
added more dates in January and February 2022!
"Pottery and a Pot" is a creative workshop designed and hosted by professional
Artist and Art Therapist, Susi Langdon! In this 3 hour class (3pm- 6pm), Susi will
introduce hand building and glazing techniques!
Susi Langdon is based in Naarm. After receiving her Masters in Art Therapy in 2019
she has been working with a large number of clients and has extensive experience in
both teaching and diverse artistic practices. As a multidisciplinary Artist, Susi has a
soft spot for clay, because of how soothing ( and messy) it can be. Throughout the
workshop Susi will use her skills in pottery and Art Therapy to guide you through a
variety of hand-building sculpting techniques and provide an introduction to under-
glazing, allowing you to leave the class with your very own hand-made vessel
whether it be a mug, vase, planter or any small object your heart desires.
This workshop focuses on the therapeutic benefits of creativity, encouraging you to
cultivate an attitude of self compassion and hopefully help you relax a bit after the
bin-fire that was the last two years.
All materials are provided, including underglazes and kiln firing for your clay babies.
This event is for 18+ patrons only and includes a free pot of lager during the class!
$65.00 materials, underglazes and kiln firing included in the price!
Ticket links:
January
Saturday 29.01.22
Sunday 30.01.22
February
Saturday 12.02.22
Sunday 13.02.22
Only a small amount of tickets are available so get in quick! Early bird gets the worm
etc…

The Old Bar acknowledges the Traditional Owners of Country throughout Australia and to
the Wurundjeri people of the Kulin Nation, the traditional custodians of the land of which
The Old Bar Gallery resides. The gallery pays its respects to Elders past, present and
emerging and acknowledges that sovereignty has never been ceded.