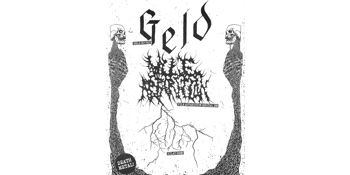 KILAT + VILE APPARITION + GELD
The Old Bar (Fitzroy, VIC)
Saturday, 26 February 2022 8:00 pm
Saturday February 26th 2022 live at The Old Bar - a night of HC punk, bludgeoning Death Metal and extreme Raw Black Metal with GELD // VILE APPARITION // KILAT".
GELD
are a
Hardcore Punk from Melbourne Australia, formed in 2014. After two recent sold out shows and world wide praise for their latest album, 'Beyond The Floor', GELD are like
Poison Idea railing speed off Hawkwind's dick.
VILE APPARITION are a
Bludgeoning Old School Brutal Death Metal from Melbourne, Australia. Their recent s
plit release with Italy's MISCREANCE offers up the finest export of technical prowess and death metal speed issued by the almighty Desert Wastelands Productions.
KILAT are a three piece explorative raw black metal band from Naarm, Australia. The group consists of artists Karina Utomo (High Tension, RINUWAT), Rama Parwata (Whitehorse, RINUWAT) and Benjamin Andrews (MY DISCO, Agents of Abhorrence, Blarke Bayer). The band formed in early 2021 after years of discussion into extreme music genre fusion and the trio's simpatico relationship with one another.
The black metal moniker is the tip of the proverbial iceberg when it comes to describing KILAT's noise laden sound.
Their first performance, 'Malam Busuk' was on November 13th at The Corner hotel in Richmond, and the band performed to a sold out crowd. The trio reference the sounds of contemporary raw Black Metal artists, as well as drawing influence from Nusantara and ancient Javanese imagery, script and traditions.