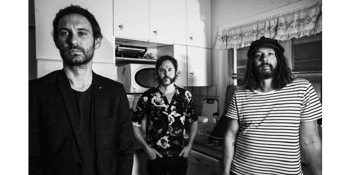 CANNON - Launch at THE OLD BAR
With guest NAT VAZER
The Old Bar (Fitzroy, VIC)
Friday, 7 January 2022 8:00 pm
Cannon return for hometown album launch show @ The Old Bar Friday Jan 7th 2022
Cannon launch their debut album with a special hometown show at beloved Melbourne stomping ground, The Old Bar, with support from AMP nominated local favourite, Nat Vazer.
Melbourne's hazy guitar lords Cannon dropped their debut album Connexion in 2021. Mixed by Colin Hegna in Portland, USA, Connexion alternates between hypnotic, modern rock grooves and all out fuzz stompers.
Cannon are back, better than ever;
"Cannon are still the Aussie rock powerhouse they've always been." – Tyler Jenke, Rolling Stone Australia.
https://cannonbandmelb.bandcamp.com/