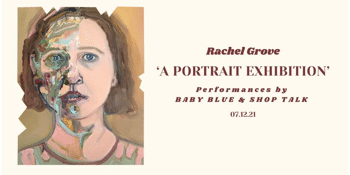 BODRIGGY AND THE OLD BAR GALLERY
RACHEL GROVE EXHIBITION W/ BABY BLUE + SHOP TALK
The Old Bar (Fitzroy, VIC)
Tuesday, 7 December 2021 7:00 pm
We are so excited to announce Rachel Grove's 'A Portrait Exhibition', opening December 7th as our first exhibition back after the lockdown!
Rachel's self-portraits are full of textured emotion, balancing beauty and grit. She "aim'(s)for each portrait … to not replicate reality but to delve into the many facets of self, cutting to the core of one's existence." "(Alternating) between observation and imagination, which enables subconscious elements to surface." Rachel often takes inspiration from her own life, creating a visual 'diary' exploring themes ranging from family to politics.
Joining Rachel on opening night are bands Baby Blue and Shop Talk. We couldn't be more chuffed to have these wonders play!
Shop Talk will be kicking off the night with their heart- shattering harmonies, followed by the irresistible and dynamic melodies of Baby Blue. These must see bands will be winning over your ears and hearts guaranteed!
Doors at 7pm
Bands from 8pm
$15 entry fee
Must be double vaccinated for entry
This event is sponsored by our friends and supporters of the arts, @Bodriggy Brewing company. The exhibition will be open 3pm – 8pm every day until December 20.
The Old Bar Gallery acknowledges the Traditional Owners of Country throughout Australia and to the Wurundjeri people of the Kulin Nation, the traditional custodians of the land on which The Old Bar resides. The gallery pays its respect to Elders past, present and emerging and acknowledges that sovereignty has never been ceded.