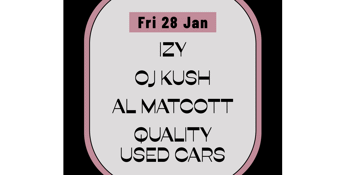 FITZ RITZ: IZY + AL MATCOTT + QUALITY USED CARS + OJ KUSH
The Old Bar (Fitzroy, VIC)
Friday, 11 March 2022 8:00 pm
Friday night's alright – start with a shot of sunny Australiana with Quality Used Cars and move onto Al Matcott's guitar licks and masterful lyricism. Up the energy with OJ KUSH producing a myriad of sound improvisations and a drum machine. Top it all off with velvety neo-soulsters, Izy.

Izy
Syrupy vocals and soulful percussive grooves make up this neo-soul group from Tropical North QLD. When they're not distilling dragonfruit gin, Izy (pronounced eye-zee), jam on a velvety and well-balanced sound. Soul music for soul people.


OJ KUSH
Formed to celebrate the experience of musical improvisation, OJ KUSH brings a multiplus sound of jazz, funk, hiphop, boogie and house. Replacing the traditional band drummer with drum machines and programmed loops allows DJ Amin Payne (of house music fame Teymori) to mix with a variety of styles & sounds, producing a unique performance every time.


Al Matcott
A dash of twanging guitar and narrative driven lyricism propels Al Matcott in his solo endeavor, after performing as a guitarist, singer and drummer in a variety of bands. Al's natural drawl feels lived-in and relaxed when combined with some glistending guitar licks and his casual delivery. Settle in.


Quality Used Cars
Sounds like sunny Australiana with a dose of alt-country tenderness and a drench of garage pop. Quality Used Cars brings you idiosyncratic lyrics and sticky hooks that you'll raise a can to. Joyously loveable.