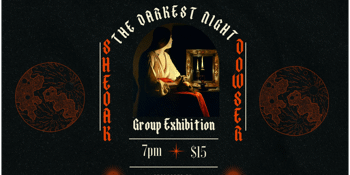 THE OLD BAR GALLERY PRESENTS:
'THE DARKEST NIGHT' - GROUP ART EXHIBITION
With guests DOWSER and SHE-OAK
The Old Bar (Fitzroy, VIC)
Wednesday, 29 December 2021 7:00 pm
It might be 6 months late in the southern hemisphere but The Darkest Night will FINALLY be going ahead just in time for the northern hemisphere's Winter Solstice!
"The Darkest Night" has been postponed about 6 times due to lockdowns but we finally have the green light to reopen! Please, join us for the much anticipated opening night of this epic showcase of artists!
The Old Bar Gallery is proud to present works by over 40 local and interstate artists, inspired by this night and its vast symbolism.
Small businesses, artists and musicians have been greatly impacted in the past 2 years, and this last lockdown has been extra hard on us. We appreciate your support!
Joining us will be live music from Dowser and Sheoak!
Full artist lineup:
Aileen Ng, Rosie Turner, Gabriela Magras, Ashley Cullen, Laura Alice Bracken ,Rebecca Smith, Balazova Black, Bonnie O'Loughlin, Tony Tran, Lucy Wood, Alisha Lange-Meek, Elli Hales, Paige Zidar, Ophelia Sylvia, Rachael Wellisch, Carina Capone, Maddy Furness, Jack Murphy, Grace Taylor, Dandy Studio, Alex Dinsdale, Cathy Speed, Helena Marina Guina, Grae Burnished, Saraid Banahan, Chloe Newman, Erin Greer, Alyce Verheijden , Rachael Anger, Jordan Koudmani, Darcy Shilton, Emily Simek, Timothy Perkins, Empire Of Stuff, Mollie Clare Wilson,Tristan Davies, Zoe Haynes-smith, Rachel Grove, Amelia Stevenson , Evie Wei, Sheridan Misso (Sheri Morte), Ally Moylan, Julia Novella, Natalie Haig,Sydney Farey, Eloise Duffus, Ashleigh Hobbs, Vicki Soar and The Grimm Sisters!


Doors at 7pm
Bands from 8pm
$15 entry fee
Must be double vaccinated for entry
This event is sponsored by our friends and supporters of the arts, @Bodriggy Brewing company. The exhibition will be open 3pm – 8pm every day until December 10!

The Old Bar Gallery acknowledges the Traditional Owners of Country throughout Australia and to the Wurundjeri people of the Kulin Nation, the traditional custodians of the land on which The Old Bar resides. The gallery pays its respect to Elders past, present and emerging and acknowledge that sovereignty has never been ceded.