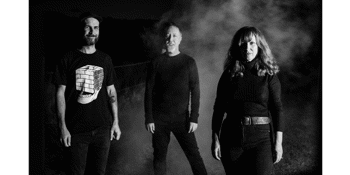 CANCELLED - SOME JERKS (QLD) at THE OLD BAR
With guests BABY 8 and PARTY PEST
The Old Bar (Fitzroy, VIC)
Friday, 21 January 2022 8:00 pm
Brisbane's Some jerks are coming up on a decade of wild surf rock, pop, and punk,
sharing stages with the likes of The Bellrays, The Coathangers, New Christs, The Cosmic Psychos,
and The Scientists.
Led by the sweet vocals of Victoria Watson, Some jerks put on an energetic display live,
channelling their affection for 60's garage, and girl groups.
In August 2021, Some jerks released their 3rd album, Summertime Funtime on Melbourne label
Kasumuen Records. A follow up to 2017's Strange Ways, it delves into wild new territory.
Album opener Cards, comes out firing with furious vocals trading blows with
punchy guitar stabs... Oh-No, Summertime Funtime,and Promises bring the garage pop,
and songs like Love lit Skies, A Thousand Gods, and Title track Manta Ray, go off into
exotic places.
Also included are the anthemic "A Million Girls",originally released as a single in 2019 and
"Star", originally released on a split 7" with Melbourne's Powerline Sneakers in 2018.
Recorded at Plutonium Studios Brisbane, in August 2019, just in time for original Guitarist
Will O'Brien, to move the USA, and Covid-19 to move into every country on earth, It has
been a bumpy ride to release.
Some Jerks with the addition of new guitarist Brent Wilson are keeping the fire burning, and
excited to release Summertime Funtime, into the world. After recently holding a two night sold-out
launch at The Bearded Lady in Brisbane, It's Melbournes turn, with a launch at The Old Bar on
Friday January 21st.