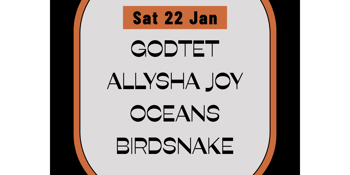 FITZ RITZ: GODTET + OCEANS + ALLYSHA JOY +BIRDSNAKE
The Old Bar (Fitzroy, VIC)
Saturday, 19 March 2022 8:00 PM
Twenty-two done right for you. Starting with percussive groovers Birdsnake, followed by the nostalgic shoe gaze of Oceans and soulful jazz vocals of Allysha Joy. To top it all off, get immersed in Godtet's genius experimental instrumentals joining us from Sydney.


Godtet
Hailing from Sydney, psychedelic jazz connoisseurs GODTET is the brainchild of Australian instrumentalist and producer Godriguez. He has marshaled together 4 more members; a head priest of the Cuban Ifa religion, the step-son of Australia's greatest funk and soul musician, Australia's leading drummer in this new jazz generation and an emotionally gifted pianist from New Zealand. Off the back of performing A Cosmic Reimagining of John Coltrane at the Sydney Opera House in 2021, they join us at Fitz Ritz. Organic, improvisational, evolutionary.

Allysha Joy
She's one of Melbourne's soul jazz powerhouses. Allysha Joy is a singer, poet, pianist and vocalist of the highest vibration. Backed by steady grooves, she brings a powerful energy and signature husky vocals to each beat, tune and melody. Feels good.

Oceans
Fusing electronic soundscapes with soft vocal harmonies, Oceans presents shoegaze nostalgia in an early nineties daze. A contrast of melodic lyrical verses with heavier, thrashing guitars choruses – this Slowdive inspired dreamstate is a sweet trip.

Birdsnake
Backed by a percussive rhythm section, Birdsnake brings a multi-dimensional mix of jazz, funk, soul and instrumental dance to the party. Expect to hear contemporary, eclectic and soulful sounds from this set.